Class Listings
New class lists are available for the upcoming three months.
We hope you'll join us and learn something new while having a great time!
Class schedule for March, April, May, and June
Getting Started and Regular Happenings
Beginning Knitting
Session 1: Sat, Mar. 14 1-3 pm
Session 2: Thurs., Apr. 2 1-3pm
Session 3: Thurs., May, 7 1-3 pm
Materials: Smooth worsted weight light colored yarn, size 8 needles
Description: Come on in and learn to knit! You will learn the basics of knitting while getting the knowledge that you will need to do projects of your choice. During the class you'll learn the basics, casting on, knitting, purling and binding off. Choose the session that best fits your schedule. If none of them do, call and schedule one that fits your schedule.
Monday Night Knit & Crochet Too

When: Mondays 6 – 8 pm
Cost: Free
Description: Come and hang out with fellow knitters and crocheters, share your knowledge and projects. As a courtesy to the shop, we appreciate that on Knit Night, you knit or crochet with Lambikin's yarn. Knit & Crochet night is for adults only.
Finishing Class

Finishing classes are available by appointment. Bring in a project to finish and we will help you with picking up stitches, adding button bands, seaming and blocking. Cost is $10 per hour.
Friend's Class

This a private class for you and your friends to work on a specific project that isn't on our current class schedule. Call the shop to schedule this private party. The cost for this 2 hour class is $20 per person.
Private Knitting Lesson
s
are available for $10 per hour. Call to schedule an appointment and receive some individualized attention on a current project or to learn a new technique
Knit-a-longs
Sunday KAL A & Beginning Sweater (Speckles by Casapinka)
When: Sunday, Mar. 22, Apr. 5, 19, May 3, 17, 31 & June 14
1-3 pm
Materials: DK yarn, appropriate needles for gauge
Description: Speckles is constructed from the top down with raglan shaping. You will knit it inside-out so you won't be purling an entire sweater. There are subtle slip stitches on the side and a textured rib along the bottom and 4" of the same rib along the sleeves. A good first sweater and great for social knitting.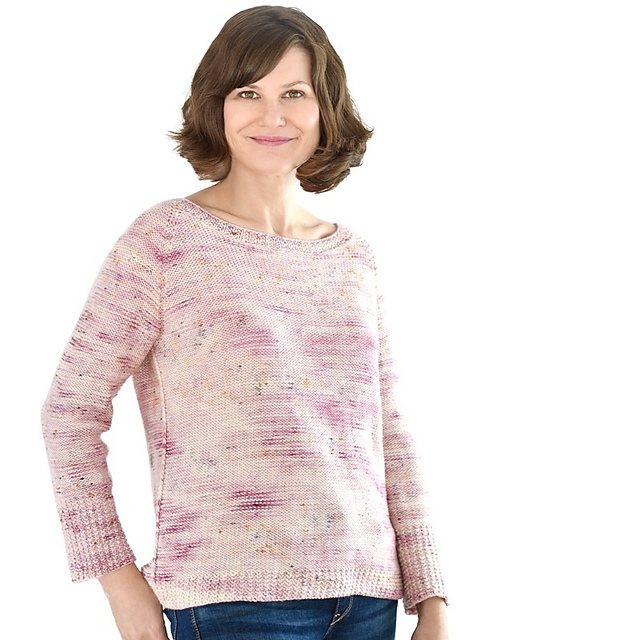 Sunday KAL B - The Weekender by Andrea Mowry
When: Sunday, Mar. 22, Apr. 5, 19, May 3, 17, 31 & June 14
1-3 pm
Cost: FREE
Who: Cathy
Materials: worsted weight yarn
Description: Weekender contains the following attributes: texture, faux seams, drop shoulder, and some positive ease. They create this versatile, flattering sweater! No matter your body type, it is perfect for wearing to the office or out on your weekend hike in the woods. It's a great first sweater or a fun social knit project.

Sunday KAL C - The Scotlander by Casapinka
When: Sunday, March 15, 29, April 26, May 10, 24 & June 7
1-3 pm
Cost: FREE
Who: Nora
Materials: DK or light worsted weight yarn
Description: If you are new to cables, this is a good sweater for you. There are only four cables in the body of the sweater and they mirror each other; meant to represent two people joined through space and time.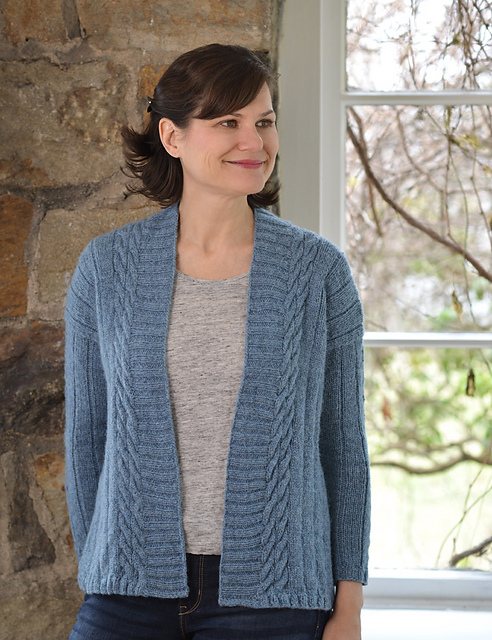 Sock Classes
Socks 101 – Double points or 9" circular

When: Saturday, Mar. 21, Apr. 4 & 18 1—3 pm
Cost: $10
Materials: suggested DK sock yarn, appropriate sized needles.
Description: Socks are the perfect small project! Knit them in the car, by the fire, or at a game. Wherever your travels take you, socks are fun and portable!!
Socks 201 – Magic Loop or Two at a Time
When: By appointment
Cost: $10
Materials: yarn, appropriate sized 32" - 40" circular needle
Description: Don't like all those pointy needles? Do the tiny circular ones make you crazy? Come in and have us show you another sock knitting method.
Classes
Circle of Friends Shawl by Joji Locatelli
When: Monday, March 16 & 30
6-8 pm
Cost: $10
Who: Regina
Materials: two contrasting colors of yarn in fingering weight, US 6 circular needle
Description: Circle of Friends is a large 2 color crescent shaped shawl. It features garter stitch and cute little bobbles.

Swirlwind Hat by Nicole Vanderlee
When: Saturday, March 21 & April 4
10 am-12 pm
Cost: $10
Who: Cathy
Materials: Worsted weight, US6 & US7 needles
Description: Swirlwind is a worsted weight hat for everyone! A simple two stitch slipped cable travels up the body and into the crown, creating an elegant spiral. With three different colorwork options, and sizes from newborn to adult, this is a pattern you'll love to knit again and again. Instructions and photo tutorial for cabling without a cable needle are included.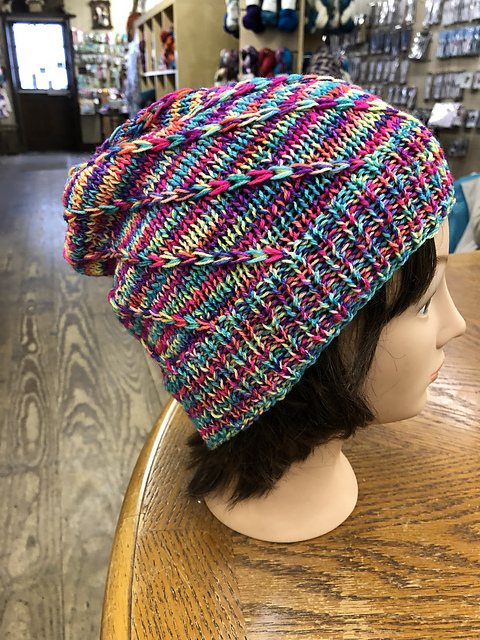 Ravelry 101
When: Saturday, March 28
1-3 pm
Cost: $10
Who: Mindy
Description: Are you interested in learning more about Ravelry? Learn how to search yarns and patterns while limiting the results to only what really interests you. Learn how to put all your projects into Ravelry. We'll help you set up your account if you don't already have one.
Blocking 101 with Cathy
When: Saturday, April 18 1
0 am - 12 pm
Cost: $10
Who: Cathy
Description: Did you miss it before? It's back by popular demand!!! Intimidated by the thought of blocking? Do you have finished objects sitting at home unblocked? Come and learn the process of blocking. Cathy will take the mystery out of it. You'll go home with the knowledge needed to block all your projects.
2 Color Cowl by Plymouth Yarn Design Studio
When: Saturday, May 2 & 16
1-3 pm
Cost: $10
Who: Leslie
Materials: 2 skeins of Viento yarn, US 11 needles
Description: This cowl is super fast and easy. It's reversable and so, so soft.


Fixing Mistakes
When: Saturday, May 2
10 am - 12 pm
Cost: $10
Who: Cathy
Materials: swatch homework required before class :)
Description: Are you plagued by dropped stitches? Do you have trouble reading your knitting? If you don't know what to do when you make a mistake, join us for this two hour class and become a more independent knitter!
Water Born Headband by Jacqueline Cieslak
When: Saturday, May 9, 23 & June 6
10 am - 12 pm
Cost: $10
Who: Cathy
Materials: DK weight yarn, US 4 & 6
Description: WATER BORN is a pattern for 3 single-color brioche headwraps of increasing complexity. The wraps are simple and easy to wear, perfect for brisk morning walks or quick and delicate knitted gifts. The pattern includes detailed instructions and 7 video tutorials for everything from brioche 101 to invisible finishing methods for the headwraps. The 3 options make this an ideal "first" brioche pattern, allowing you to begin with straight brioche stitch and work your way up to increasing and decreasing.

Swing Your Partner Fingerless Mitts
by Crazy Sock Lady Designs
When: Saturday, May 9, 23 & June 6
1 - 3 pm
Cost: $10
Who: Cathy
Materials: 200 yards of self-striping sock yarn
Description: A fun fingerless mitt pattern that is perfect for self striping yarn! Pattern has two sizes and includes a video tutorial for the bind off recommended.